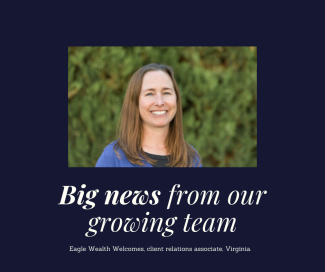 Big news from our growing family
Hello Eagle Wealth Community,

Our commitment to you is our number one priority.  We're here to make your life easier and that means making sure we build a solid team to support you. That's why we invited Virginia Cramp to join our Eagle Wealth family and assist Certified Financial Planner™, Suzanne Daniel CFP®. 
How does this new addition help you?
You'll hear a new friendly voice when you call the office.
More support to answer your questions and get you what you need faster.
Allows advisors to focus on planning and more time spent with you.
Read more about Virginia below.

With over 10 years of administrative experience, her background as an office manager sets her up to thrive in the client relations associate role.

Her warmth, patience, and can-do attitude are just a few of the reasons we're excited to have her on board.  Driven by compassion and kindness, Virginia offers a fresh perspective in the office. 
"I love talking with people and getting a snapshot of their lives.  In my short time here, I've already seen the joy people have when they achieve one of their goals.  It's great to share in their happiness and be part of the team." 
A New Jersey native, Virginia, has lived in Central Oregon since 2002.  Before moving to Bend, she attended Bloomberg University in Pennsylvania and earned a bachelor's degree in interpersonal relationships, focusing on communications. 

When she's not in the office, you can often find her on a hiking trail or wandering in her backyard garden.  As a seasoned river raft guide, she's no stranger to adventure!  Virginia lives with her husband, 14-year-old daughter, and Goldendoodle named Koosah. 

Please join us in welcoming Virginia to the team.

Until next week,

Your Eagle Wealth Team
We've asked Data Delete of Oregon to be at our office on Friday, July 16th from 9am-11am to shred your documents for free! Don't miss your chance to get rid of the clutter, say hello to the EWM team, and cross this task off your to-do list.  Make sure to bring your friends and family members to take advantage of this service.

You'll get to visit with the Eagle Wealth team while enjoying coffee and donuts.  Who can turn down a donut, right?  We'll also have a giveaway table for you to stock up on all your favorite Eagle Wealth gear. 

We've missed seeing you in person and look forward to catching up with you soon. 
 
Will you join us?
The Week on Wall Street
Strong employment reports and rising consumer confidence sent the stock market broadly higher last week.

The Dow Jones Industrial Average rose 1.02%, while the Standard & Poor's 500 picked up 1.67%. The Nasdaq Composite index gained 1.94%. The MSCI EAFE index, which tracks developed overseas stock markets, lost 1.42%.1,2,3
Stocks Rally
Rising conviction in the economic recovery and waning inflation worries drove stock prices higher, with the S&P 500 and Nasdaq Composite racing to record closes to begin the week.

Amid the week-long march higher, market leadership changed hands throughout the five-trading days. The leadership baton alternated between the technology and high-growth companies, which responded to lower bond yields, and cyclical stocks, which rallied on higher oil prices and successful bank stress tests.

Economic news buoyed investor sentiment as consumer confidence rose and an improving labor market—weekly initial jobless claims came in at a pandemic-era low (364,000), while employers added 850,000 new jobs in June—sent the S&P 500 and Nasdaq Composite to new record highs to close out the week.4,5
A Confident Consumer
Market sentiment was lifted by a rise in The Conference Board's Consumer Confidence Index, which reached its highest level since the onset of the pandemic in March 2020. This was the fourth-straight month of increases in consumer-confidence levels.6

The consumer outlook for income, business, and labor market conditions over the short-term improved markedly. Interestingly, consumer confidence and buying intentions appear largely unaffected by the possibility of rising inflation. In fact, the survey showed a rise in the number of consumers expecting to purchase homes, automobiles, or home appliances. Vacation intentions also rose.6
THE WEEK AHEAD:
KEY ECONOMIC DATA

Tuesday: ISM (Institute of Supply Management) Services Index.
Wednesday: JOLTS (Job Openings and Labor Turnover Survey) Report. FOMC (Federal Open Market Committee) minutes.
Thursday: Jobless Claims.

Source: Econoday, July 2, 2021
The Econoday economic calendar lists upcoming U.S. economic data releases (including key economic indicators), Federal Reserve policy meetings, and speaking engagements of Federal Reserve officials. The content is developed from sources believed to be providing accurate information. The forecasts or forward-looking statements are based on assumptions and may not materialize. The forecasts also are subject to revision.

 
THE WEEK AHEAD:
COMPANIES REPORTING EARNINGS


Thursday:   Helen of Troy Limited (HELE), Levi Strauss & Co. (LEVI).

Source: Zacks, July 2, 2021
Companies mentioned are for informational purposes only. It should not be considered a solicitation for the purchase or sale of the securities. Investing involves risks, and investment decisions should be based on your own goals, time horizon, and tolerance for risk. The return and principal value of investments will fluctuate as market conditions change. When sold, investments may be worth more or less than their original cost. Companies may reschedule when they report earnings without notice.